Nepal
Total Land: 147181 sq. km (56827 sq. miles)
Capital: Kathmandu
Population: 28 million (2011)
Language: Nepali
Federal states: 7
Religions: Hindu 82.3%, Buddhist 9%, Islam 4.4%, Kirat 3%, Christianity 1.4% (2011)
NCM
Nepal Christian Mission is an organization which was established in 2002. It works in Nepal primarily evangelizing, training and equipping leaders, planting and building churches, encouraging them in their challenging work in the rural areas of the country. Since, the government introduced anti-conversion law in 2018 with huge fines and five years in prison, it is difficult for us to go out to preach the unreached. Therefore the NCM does its work through its sister organizations HCLCN- mission work and HTCDN-humanitarian work but the purpose is same preaching the Gospel.
Our Vision: Gospel is preached to everyone Nepal
…go and make disciples of all nations, baptizing them in the name of the Father and of the Son and of the Holy Spirit, and teaching them to obey everything I have commanded you…
Mission
Going, Making disciples, Equipping leaders, Planting churches, Constructing church buildings, and Advancing the Kingdom of God for the last harvest.
OBJECTIVES:
1. To evangelize people of Nepal
2. To train & equip pastors, leaders, preachers and missionaries
3. 4. To translate and publish Christian books
5. To serve people of Nepal with humanitarian projects.
Director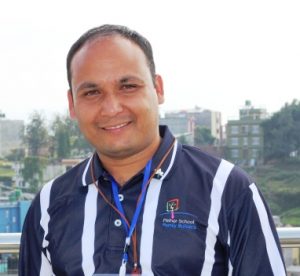 Raju Bhitrakoti is the director at NCM. He a pastor at Eternal Life Church in Kathmandu. As NCM has two sister organizations HCLCN and HTCDN, he serves as the Chairman at HCLCN and is a principal at the Himalayan Bible Institute in Kathmandu. He is involved in producing more laborers for the Kingdom.
He carries out humanitarian work/ projects through a non-profit organization HTCD Nepal registered in the government. Through which he works in the areas of children's education, vocational education, health projects and education, drinking water and disaster relief aid.